Carol Lawrence-Erickson, Owner & President
Growing up in the family hospitality business, Carol Lawrence-Erickson has over 30 years of experience managing and marketing of various restaurants, including her own. She started at the age of 12 peeling potatoes, setting the banquet hall and taking turkeys apart with memere at
Belmont Hall
. By 15, she had worked her way up to dishwasher and line cook, before accepting a waitress position at the Weathervane Seafood Restaurant. This position was short-lived because within two weeks, she was offered the Dining Room Manager position and soon after followed her passion to learn all about the back of house. After successfully managing another family business, The Derryfield Restaurant, Carol bought her first restaurant in September 1987 when she was just 23 years old. Since this time, she has earned national exposure for the Red Arrow Diner through print, television and radio media as well as expanded the brand to three locations across New Hampshire.
Even in the infamously competitive hospitality industry, Carol continually supports countless local restaurants in many ways. Carol truly believes that restaurateurs should build each other up and collaborate to build a thriving economy that benefits everyone. To this end, she founded the NH Entertainment and Tastes of the State (NH EATS) and hosted a food-themed radio show for over a decade that showcased local eateries, chefs and signature dishes. When tragedy strikes for fellow hospitality entrepreneurs, Carol is at the front of the line to offer encouragement, consultation and other support for these individuals and their staff. Carol was named by the New Hampshire Lodging & Restaurant Association as the 2018 Stars of the Industry Restaurateur of the Year.
Carol is an active supporter of her community and supports countless charitable endeavors. Each year, she and her team leads the planning committee for the Tower of Toys holiday fundraiser which collects toys for disadvantaged children. She serves annually as a Make-A-Wish NH table captain and actively supports the Perkins School for the Blind, including funding in perpetuity the organization's annual Jesse Isabelle Spirit Award to recognize a child with great passion and spirit. For over six years, she has volunteered her time and compassion as an educational surrogate for a 17-year-old girl in foster care. Carol has also served on the Challenger Sports NH board of directors, was honored to be the keynote survivor speaker of the American Heart Association's Go Red For Women Luncheon in 2017, and a supporter of both New Hampshire Association for the Blind and Compassionate Friends. She also conducts countless fundraisers through her diners and provides generous donations for a wide variety of causes.
George Lawrence, Vice President
Vice President of the Red Arrow Diners since our incorporation in February 2008, George is also Co-Owner of our Milford Red Arrow Diner Affiliate since its incorporation in September 2008. From 2005 to September 2008, George was a consultant in the restaurant industry; and from 1975 to 2005, he was self-employed as a restaurant owner in Manchester, New Hampshire.
Lee Frederickson, Account Controller
Lee joined Red Arrow Diner as a part-time bookkeeper in July 2008 and was quickly promoted to full-time Account Controller due to her hard work and dedication to the position. In this role, Lee is responsible for the financials and accounting for all three diner locations, as well as downtown Manchester's Midtown Café. She manages accounts receivable and accounts payable and is responsible for preparing monthly financial and Profit and Loss statements. Prior to joining Red Arrow Diner, Lee worked for a tax preparation firm in Manchester, NH and also did bookkeeping for local restaurants. It was during this time she met Carol Lawrence-Erickson, owner of Red Arrow Diner. Carol learned of Lee's accounting skills and didn't hesitate to bring her on board. Lee considers her colleagues at Red Arrow Diner her second family and loves working for Carol and George.Lee is from Manchester and earned a Bachelors degree in Accounting from Saint Anselm College. She currently resides in Boise, Idaho with her husband and young daughter and travels back to New Hampshire frequently.
Amanda Wihby, Chief Operations Officer
In this role, Amanda is responsible for reaching the highest profitability for the company while managing the monitoring of budgets and expenditures, including food and labor costs. She also works closely with all of Red Arrow Diners' general managers to assure company policies and procedures are being met and manages the company's human resources, payroll and marketing components. Since joining the Red Arrow Diner in 2010, Amanda has worked directly with the company owners to open two brand new locations in Londonderry and Concord. Due to her hard work and dedication, she has managed to increase business and profitability in all of the company's current locations.
Prior to joining Red Arrow Diner, Amanda worked as the Marketing and Office Manager for a commercial real estate company and also owned and operated her own catering business. She has spent ten years in the hospitality industry, and has always had a passion for food and cooking. Amanda embraces the daily challenges in the hospitality industry and welcomes the unexpected, whether it be a pie in the face for a fundraising event, SOS calls she receives from the diner locations, or menu changes that involve food tastings (her favorite!). Amanda considers her fellow employees at Red Arrow Diner her extended family and loves working with owners George Lawrence and Carol Lawrence-Erickson, whom she has learned a great deal from thanks to their 40+ years in the restaurant business.
Amanda graduated magna cum laude from Southern New Hampshire University in 2007 with a BS in Organizational Leadership with minors in Psychology and History. Amanda was named by the New Hampshire Lodging & Restaurant Association as the 2017 Stars of the Industry Restaurant Employee of the Year. She currently resides in southern New Hampshire, a place she is proud to call home throughout her childhood and now as an adult, building her career and family. In her spare time, Amanda loves to cook, travel and spend time with her beloved family: her husband of nine years, Michael, as well as her two daughters, Lyla and Olivia.
Jamie Lemay, General Manager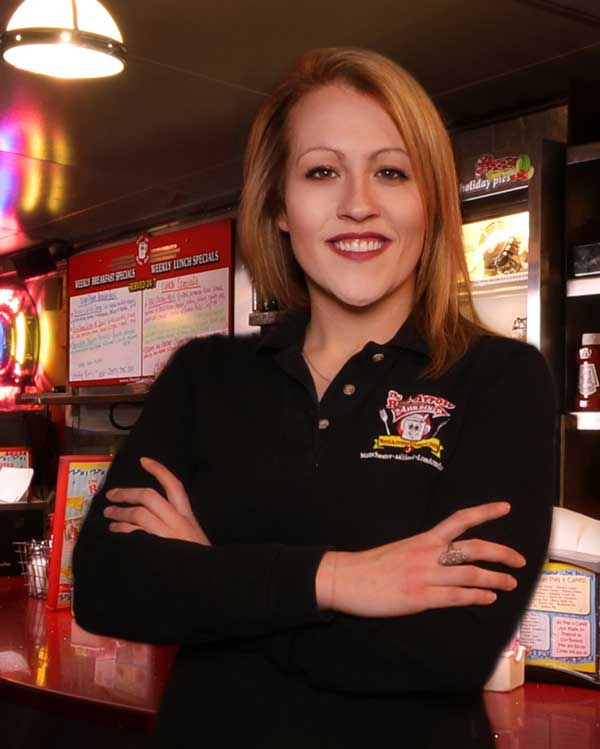 Jamie joined Red Arrow Diner in 2012 as a third-shift server at the company's Manchester location. She was promoted to General Manager of the location in 2015, where she was responsible for managing employee scheduling, maintaining food and supply orders, regularly interacting with customers to assure the food and service was to their liking, and working closely with servers, cooks and other staff to make sure company procedures were being followed.
Prior to joining Red Arrow Diner, worked as a host in a chain restaurant for five years before she began bartending at a Nashua banquet facility. She was recruited by a former Red Arrow Diner general manager to work at the diner as a third-shift server and then began her tenure at the Manchester landmark. Jamie's management roles made her realize how much of an extended family she has at the Red Arrow Diner. She loves working with owners George Lawrence and Carol Lawrence-Erickson as well as Chief Operations Officer Amanda Wihby.
Jamie currently lives in Nashua with her fiancé and their five children. She is very involved in her kids' lives and enjoys spending time with her family.
Three Generations at the Red Arrow Diner!
From left to right: Tyler Isabelle, Carol Lawrence-Erickson, George Lawrence.