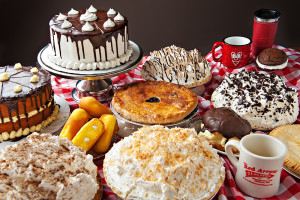 Just like breakfast, lunch and dinner, Red Arrow Diner serves dessert all day long. Each dessert is freshly baked right in our ovens. Don't leave without trying something from our dessert case! If you would like to order a full pie or cake, be sure to visit our Pie and Cake Order Form.
One-of-a-Kind Eclairs 4.99
Dinah Fingers
Our own recipe, freshly baked, never any preservatives! Pre-order through our Pie and Cake Order Form to guarantee availability!
One for 2.25
Six for 11.99
Twelve for 21.99
Whoopie Pies 4.50
Chocolate – available everyday
Red Velvet & Pumpkin – catch them in season only
Assorted Fruit Pies 4.99/slice
Double Layer Cake 4.99/slice
Cream Pies By The Slice 4.99/slice
A Red Arrow Must, Too Many to List, Ask Your Server!
Dish of Ice Cream 2.75
Includes Whipped Cream, Sprinkles and a Cherry
Ice Cream Toppings: Chocolate, Caramel, Strawberry, Banana, Choose 2 for 3.75, Choose 3 for 4.75, Choose 4 for 5.50
Frappe 5.99
Root Beer Float 5.99

All of our Meat Pies & Dessert Pies are also available to go, by the slice or by the pie! Guarantee to get your desired flavor by ordering in advance by using the Red Arrow Diner Pie and Cake Order Form. You can also view the many available flavors to see what we offer year-round!